Florida Says Hello To 2023 With Fun, Fantasy, Fireworks!
By Georgina Cruz
            Each New Year should be celebrated: it is a gift that marks the beginning of a new chapter in the novel of our lives. It is a time when we make resolutions –adopting a healthier lifestyle, maybe quitting smoking and starting an exercise program or opting for a more sensible diet. Perhaps we also propose to spend more time with family and friends and to be more attentive and charitable towards less fortunate members of our community. And naturally, we also look for opportunities to mark Dec. 31 with festivities and celebrations to welcome the New Year!
            If your plans include a trip to say farewell to 2022 and usher in 2023, you do not have to go very far: Florida is ready with festivities, fun, fantasy and fireworks to welcome the New Year! Here are some celebrations to consider in popular destinations:
            Miami – Arguably South Florida's most popular city, Miami pulls out all stops for New Year's Eve with a variety of events including spectacular fireworks over Biscayne Bay in Miami Beach (a good place to watch them is Lummus Park on Ocean Drive). Other festivities include a party in Bayfront Park (301 Biscayne Boulevard) and a beach bash in one of the most famous hotels of Miami Beach, the Fontainebleau, 4441 Collins Avenue.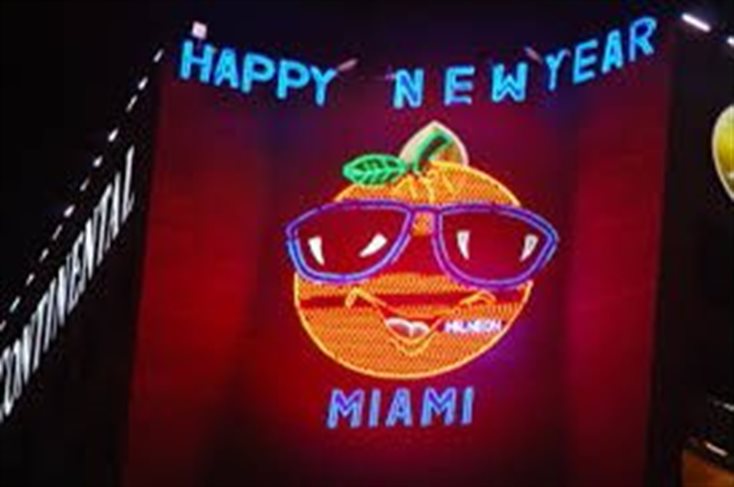 But perhaps the most iconic event of New Year's Eve in Miami is "Big Orange" in Bayfront Park with the ascent of a 35-foot neon-illuminated orange at midnight (it goes up instead of the more common "drops" in other places). Info: Miami New Years Eve 2023 | Fireworks, Parties, Events, Hotels (newyearsevelive.net).
            Orlando – Orlando has as many festivities as a pixie has magical dust. When the clock strikes 12 on Dec. 31, visitors have their pick of multiple parties, fireworks displays and special events all around the city and especially in its world-class theme parks: Disney World, Universal Orlando and SeaWorld Orlando. The theme parks welcome the New Year with fun festivities that include music, entertainment, and fireworks. Our favorite park for a Dec. 31 celebration is Disney's Magic Kingdom, where there is a special fireworks display –one of the biggest spectacles of the year.
There is nothing like seeing the skies over Cinderella Castle all aglow and shimmering with lights to add a big touch of fantasy to a New Year's Eve celebration! Epcot will also have a special firework display this year on Dec. 31. Ideal lodging for this time of the year are Disney's hotels on the monorail line to the Magic Kingdom (and with a transfer to another monorail, to Epcot). The hotels on the monorail line are Disney's Grand Floridian, Disney's Polynesian Village and Disney's Contemporary Resort. Info: Fireworks & Nighttime Entertainment | Walt Disney World Resort (go.com). For information about Orlando, including special events, log on to www.visitorlando.com.
            Palm Beach – Treasure Coast families who would like to enjoy a really special party to say goodbye to 2022 and hello to 2023 in style may wish to opt for a gala at one of Florida's most famous hotels: the AAA five-diamond The Breakers Palm Beach.

The hotel's restaurants, including Flagler's Steakhouse and Seafood Bar, offer special dinners and at the glamorous HMF restaurant (so named for founder's Henry Morrison Flagler's initials) festivities include a gourmet dinner with chef-selected courses, live music for dancing, a champagne toast and balloon drop at midnight. Before or after dinner and champagne, an additional pleasure is enjoying a walk in the holidays-decorated palatial hotel and its grounds which surely will make it possible to end one year and start another with delighted smiles. Info: Events | The Breakers. For information about Palm Beach and its surroundings including special events in Boca Raton, Delray Beach and West Palm Beach, visit The Palm Beaches Florida | Discover The Palm Beaches.
Sarasota – Miami may have a Big Orange, but Sarasota gets in on the fruit fun with a Big Pineapple to usher in 2023 in tropical style! Each Dec. 31, more than 20,000 people, according to figures from the Sarasota Convention & Visitors Bureau, come to this lovely city on Florida's west coast, to witness the "Pineapple Drop" in the heart of Sarasota.
A good spot to watch the drop of the big, illuminated pineapple is Main Street, where visitors find music, food, activities for children and more. Other celebrations in Sarasota include special lighting at Selby Gardens, one of the most beautiful botanical gardens in our state, parties and, of course, a spectacular fireworks display over the Sarasota Bayfront. A good place to enjoy the fireworks is at Marina Jack, where there is a party and an option to take a sightseeing cruise to enjoy the display from the water. Info: Special New Year's Eve Celebrations in Sarasota County | Visit Sarasota.