Did Someone Say Bacon?
That's right, it's time for the Annual Treasure Coast Bacon Fest!
Vero Beach, FL –Follow your nose to Riverside Park in Vero Beach, October 23rd and 24th for some amazing Bacon dishes and tasty cocktails!
The Treasure Coast Bacon Fest boasts free admission, free parking and will showcase many delicious Bacon dishes and recipes.
This bacon-infused family-friendly event has a kid's fun zone, plenty of vendors and exhibits to shop and explore, live entertainment and tons of mouthwatering bacon recipes, amazing bacon cocktails as well as delicious bacon desserts.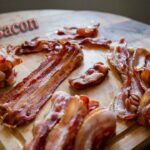 Some mouthwatering bacon dishes include
Bacon wrapped hot dogs
Bacon cheese fries
Bacon burgers
Bacon infused rice
Bacon bourbon brownies
Maple bacon ice cream
Wood fired bacon pizza
Maple bacon kettle corn
Pork rinds
Bacon mac N cheese
Pulled pork and bacon sandwiches 
Entertainment Schedule
Saturday
Johnny Debt Prestage 10 am – 2 pm
Jeff Fereshetian  2:30 – 5:30
Sunday
Davee Bryan 10 am – 12:30 pm
Scott Benge 1pm – 4pm
The Treasure Coast Bacon Fest takes place Saturday, October 23rd from 10am to 5:30 pm and Sunday, October 24th from 10am to 4pm and is held under the oaks in Riverside Park located at 3258 Riverside Park Drive Vero Beach, FL 32963


Location: Riverside Park 3258 Riverside Park Drive Vero Beach, FL
Dates: October 23rd and October 24th 
Event Hours: Saturday 10 am to 5:30 pm, and Sunday 10 am to 4 pm
Cost: Admission is Free



The Treasure Coast Bacon Fest is sponsored in part by, The Vero Beach Chamber of Commerce, POTTC Events, Professional Concessions Inc., Paradise Exteriors, 99.7 Jack FM,
Pirate Radio of the Treasure Coast
, Hometown News, Vero Beach Flash, Vero Vine,
TreasureCoast.com
, and Treasures of Fort Pierce.
###