Person of interest in deadly WPB hit-and-run found in Martin County
Martin County, Fl (treasurecoast.com) – Shortly before 7:00 a.m. West Palm Beach Police tweeted the person of interest was found with the assistance of the Martin County Sheriff. Police say she was interviewed and booked into the Martin County Jail in connection to the incident.
PREVIOUS STORY:
West Palm Beach police have identified a person of interest in a hit-and-run incident that left a pregnant woman dead.
According to officials, police are looking for Priscila Nicolas Antonio.
They believe she may be connected to the hit-and-run incident that happened Tuesday in the 3800 block of Pinewood Avenue.
The victim was identified Wednesday as Catarina Reymundo Marcos. She was pregnant.
The toddler, Jessica Guzman, was also injured and sustained a traumatic brain injury. The fetus survived.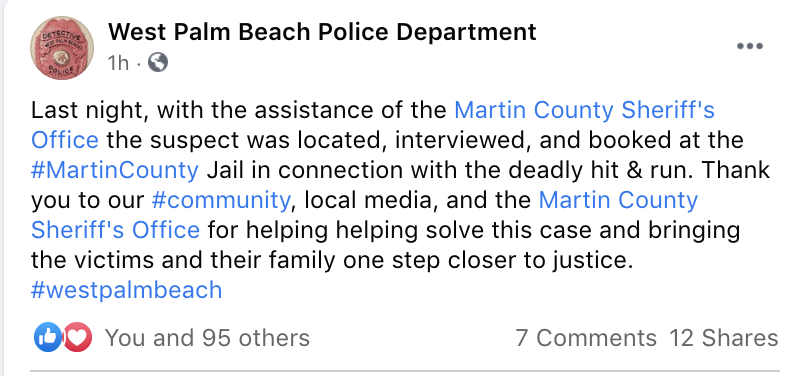 9/29
WPB Police searching for suspect vehicle in hit-and run that killed pregnant woman, hurt toddler
West Palm Beach (treasurecoast.com)- The 
West Palm Beach
 Police Department is investigating a deadly hit and run accident, which occurred this afternoon at 3:07 p.m. along the 3800-block of Pinewood Ave.
The suspect vehicle, a Honda Odyssey (Silver / Grey 1999-2001, missing front bumper) driven by a Hispanic female backed over the adult pregnant female victim and a toddler. Both were transported to a local hospital, where the adult was pronounced dead, the toddler in critical condition, and the fetus survived.
The vehicle fled the scene, and officers are currently searching for it.