Off-Broadway Weekend at the Treasure Coast Theatre
Two Off-Broadway stars bring their one-person shows to the Treasure Coast.
First up is the one-woman musical Missing Person written by and starring Susan Campanaro, with music by Lynn Portas. Missing Person is the boozy tale of Lavinia Draper, fallen socialite and one-time Broadway understudy of Betty Buckley, who is eternally chasing her boozy dream of becoming an entertainer. The story begins with Lavinia waking up from a blackout in a holding cell in South Florida on a public intoxication, drunken disorderly charge. This is a cautionary tale of a woman whose dreams have repeatedly been deferred by self-inflicted victimization and a sabotaging addiction to drama. She finds herself once again trapped by her own dysfunction, but this time she is actually missing a real opportunity to finally prove herself as an entertainer. Missing Person has been performed to sold-out audiences in various Off-Broadway venues and regional theaters across the Northeast.
The second show in the double-header is Lobster Tales — written by and starring Tim Monaghan. It's an outrageously funny autobiographical one-man show. Tim talks about growing up in Bangor Maine and the quirky people he met along the way. Lobster Tales has been performed to numerous sold-out audiences at various Off-Broadway venues as well as the Baron's Court Theatre in London.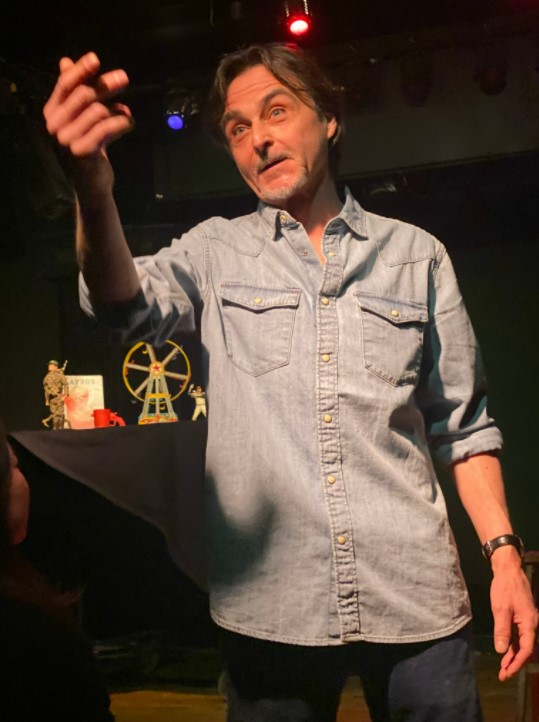 Susan and Tim met when they both starred in the popular Off-Broadway show, Tony and Tina's Wedding and have been friends ever since.
Don't miss this amazing opportunity to see these talented performers in these hilarious shows.
Note that only Missing Person will be presented on Saturday afternoon.
You can purchase tickets to just one of the two shows for $25, or see both for $45
Treasure Coast Theatre is a new theatre located at 10175 South Federal Highway, Port St. Lucie, FL in the Town Centre Shopping Plaza. The theatre can accommodate 55 theatre goers, including up to 4 wheelchairs.
Performance Dates:
Missing PersonFridays, April 8 @ 7:30pm
Saturdays, April 9 @ 2pm & 7:30pm
Sundays, April 10 @ 2pm
Lobster Tales
Fridays, April 8 @ 9pm
Saturdays, April 9 @ 9pm
Sundays, April 10 @ 3:30pm
Individual tickets are $25/Both shows for $45
Treasure Coast Theatre
Located in:
Town Centre Plaza (near Bealls)
10175 South Federal Hwy (US 1), Port St. Lucie, FL 34952
FOR MORE INFORMATION, CALL 772-418-2439 or visit our website at Treasurecoasttheatre.com