Help Jacqui Thurlow Lippish reconfirm her SFWMD board seat
For some unknown reason our SFWMD water board representative Jacqui Thurlow Lippish was reappointed to the SFWMD board by Governor Desantis but never confirmed by the Senate.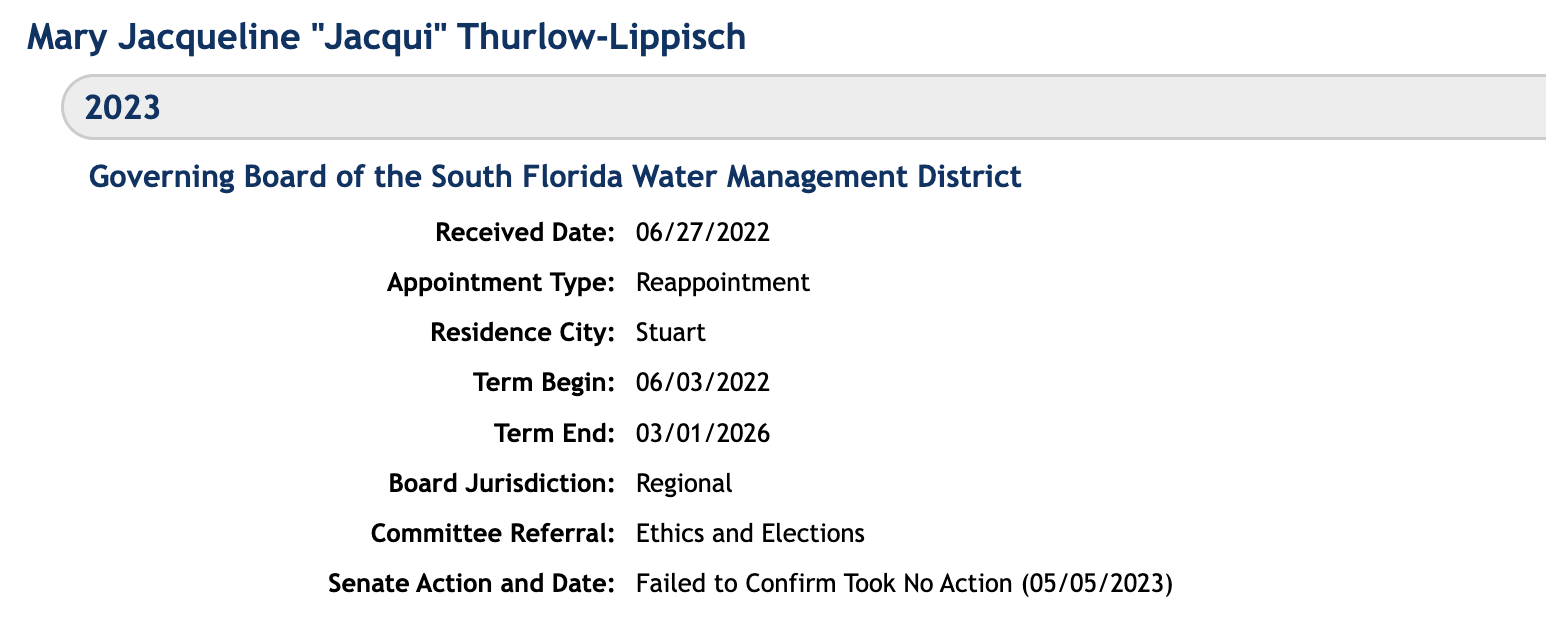 I spoke to multiple people today and frankly no one understands how Jacqui was reappointed but not confirmed. I have come to the conclusion that this must have been an oversight. An oversight that needs to be corrected. Please help us get this corrected.
What we need people to do is email Chelsea Aaron who is the Director of Appointments  and politely explain to her why this this so important and please ask her to fix this.
Her email is [email protected]
Here is a little history:
Before Governor Desantis most us had issues with the existing water board at SFWMD. It was a nightmare that lead to many of us constantly speaking in front of a board that literally ignored us and ignored the needs of our water district and the Everglades.
I literally met Jacqui when I first moved here and we literally spent an afternoon sitting in the rain talking water issues. That day was the beginning of a very long journey that is still going on. Since that day Jacqui has literally made her work understanding the very complicated issue of our water.
The person who has a seat on the board has to understand what it encompasses.Jacqui is an expert.
Every person that sits on that board is an expert now.
I can't speak for the staff but they seem very happy and things seem to be going well.
Jacqui Thurlow-Lippisch is a former high school teacher who taught English and German. Thurlow-Lippisch is a longtime advocate for the St. Lucie River and Indian River Lagoon, who publishes a blog sharing commentary about the impacts to the health of those waterways.
A former commissioner of the Town of Sewall's Point, Thurlow-Lippisch also served as the town's mayor. She is very active in environmental and community issues on the local, county and state level. She was appointed by Senate President Joe Negron to serve as commissioner for Florida's Constitution Revision Commission. In 2018, she sponsored the bill to Prohibit Offshore Oil and Gas Drilling in Florida's Territorial Seas that became part of Ballot Amendment 9 and overwhelmingly passed with over 68% of the voters.
Other key leadership positions include Chairing the Treasure Coast Council of Local Governments and the Florida League of Cities Energy, Environment and Natural Resources Legislative Committee. She also served as Vice-Chair of the Treasure Coast Regional Planning Council and as an SFWMD Water Resource Advisory Commission alternate.
Thurlow-Lippisch grew up in Stuart and lives in Sewall's Point with her husband, Dr. Ed Lippisch. She holds leadership roles in various organizations to bring awareness to preserving and protecting the environment. She currently serves as a member of the Guardians of Martin County and the Rivers Coalition Inc. and as Volunteer Administrator of the River Kidz Organization.
Here is some background:
Feel free to text me 561-715-0477 or email me [email protected] 
or message me on Facebook. 
If you have any information feel free to email or message.
The Previous Board
I'd like to say ahead of time thanks for all the help. It took us a long time and loads of work to get an amazing functioning water board and we would like it to stay that way.