FDOT finds severe corrosion in Roosevelt Bridge
Stuart, Fl (treasurecoast.com)-  The Florida Department of Transportation reported "severe corrosion"
that "ruptured" a key part of the bridge that helps maintain its strength.
" Mayor Mike Meier signed a declaration of local state of emergency for the City of Stuart based upon hazardous conditions currently existing with the Roosevelt Bridge. The declaration provides for the performance of public works and taking necessary actions to ensure the health, safety, and welfare of the community.
On Tuesday evening, it was reported that portions of concrete fell off the Roosevelt Bridge onto NW Dixie Highway. Florida Department of Transportation (FDOT) inspectors made a preliminary determination that the bridge should be closed to all vehicular and pedestrian traffic out of an abundance of caution while more information could be gathered.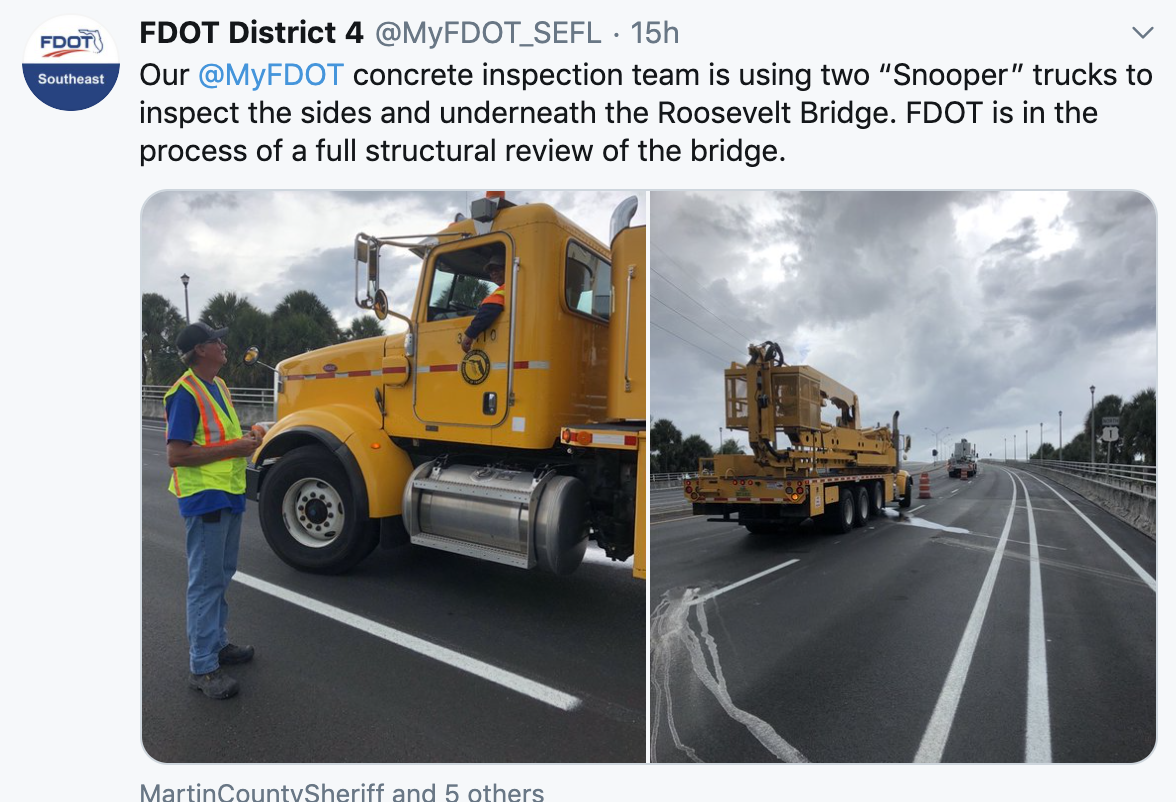 FDOT engineers have since further evaluated both the southbound and the northbound bridge structures and discovered issues of concern, particularly with severe corrosion of steel tendons in the southernmost span of the southbound bridge. In prioritizing public safety, FDOT will be bringing in support structures for this damaged section while the area is immediately fenced off out of an abundance of caution. This will not directly impact any businesses in the area. All persons are asked to remain a safe distance from the bridge at this time.
The northbound structure of the bridge is similarly under further inspection and investigation for areas of concern. This inspection is expected to be completed sometime next week. At that time, the City and state agency partners will have a better understanding of timeline for repairs on the entire bridge structure.
While the Old Roosevelt Bridge along Dixie Highway (under the new Roosevelt Bridge) has also been closed due to this event, FDOT continues to evaluate the possibility of reopening it to traffic once a support structure can be constructed. Boating traffic through the area continues to be managed by the U.S. Coast Guard and FDOT.
The City has updated a map with alternate routes for motorists to help commuters identify a route that will best meet their travel needs. The City is also working with FDOT officials and local agency partners to provide regular updates as new information is received."