GREASE, THE MUSICAL, IS AT THE BARN THEATRE
JANUARY 12TH – JANUARY 29TH
Tony Award-nominated musical GREASE hits the Barn stage January 12th thru January 29th, with a live band and infectious, catchy songs like You're the One that I Want, Grease Lighting, and Hopelessly Devoted to You.  GREASE is an ode to young love that never gets old.  Sandy, the new girl in town, and Danny Zuko, the school's coolest greaser, have a secret summertime romance but when they get back to school, everything is different.  Sandy attempts to navigate the tricky Rydell High School social waters and catch Danny's attention again. But Danny is chiefly concerned with maintaining his tough-guy reputation.  In the end, the Pink Ladies help Sandy figure out how to win back the leader of the pack.
Due to high ticket demand, three additional Saturday matinees have been added.  For tickets, call the box office at 772-287-4884 or visit the Barn's website at www.barn-theatre.com.  Discount rates are available for groups of ten or more.  So, just remember these two things. "GREASE is the Word" and "Tell Me About It Stud."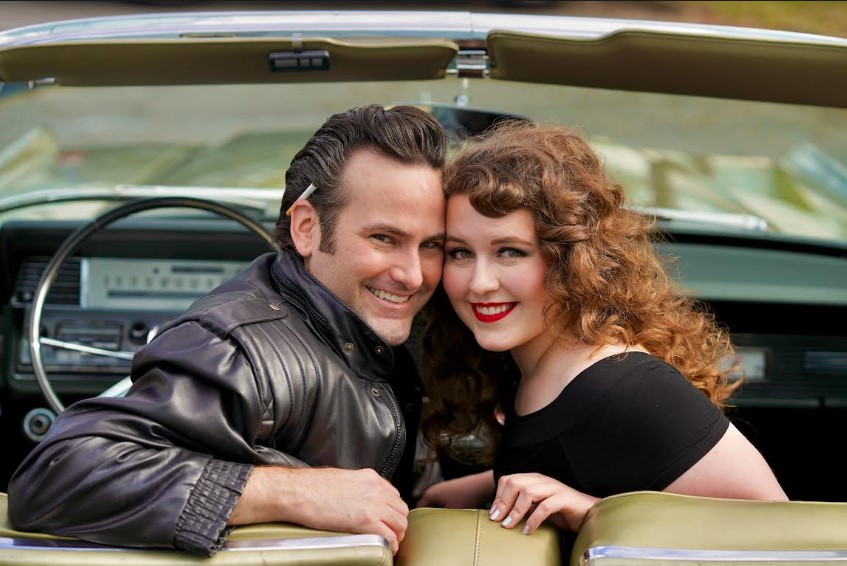 Cast members include Kelly Palusis (Sandy), Matthew Wood (Danny), Elizabeth Lundstrom (Rizzo), Cathy Randazzo-Olsen (Jan), Mia Karrh (Marty), Brittany Hooper (Frenchie), Johnathan Murray (Sonny), Brandon Snyder (Kenickie), Marcus Carr-Morales (Roger), Camryn Bird (Doody), Zachary Tripaldi (Eugene), Dave Murray (Vince Fontaine), Terry Weber (Teen Angel), Jy'Ireze Ball- Bennett (Johnny Casino), Julius Morano (Ensemble), Isabella Shellbeck (Patty Simcox), Neena Schneider (Cha-Cha), Jeanette Mazzella (Miss Lynch), Amnda Ferier (Ensemble), Natalie Pak (Ensemble), Taliyah Acardi (Ensemble), Shelby Percival (Ensemble),  Ashlley Spinelli (Ensemble), and Debbie Weber (Ensemble)
Production team members include Bryan Childe, Director,  Alex Martinez,  Assistant Dire tor, Jeanette Mazzella, Producer, Kyle Weber, Stage Manager, Katelyn Anne Johnson, Costumer, Gus McCall, Master Carpenter, Mariano Garcia IV, Music Director and Band Conductor, and Andy Morejon, Choreographer.
Photos Attached:
1.Matthew Wood (Danny) & Kelly Palusis (Sandy)
2. Cast photo:  Left to Right, Top Row – Sitting, Neena Schneider (Cha Cha), Elizabeth Lundstrom (Rizzo), Jy'Ireza Ball-Bennett (Johnny Casino), Isabella Shellbeck (Patty Simcox), Mia Karrh (Marty), Brandon Snyder (Kenickie),  sitting,  Amanda  Ferrier (Ensemble);
  Row 2 – Marcus Carr-Morales (Roger), Jeanette Mazzella ( Miss Lynch), Zachary Tripaldi (Eugene), Brittany Hooper (Frenchie)
 Row 3 – Natalie Pak (Ensemble), Cathy Randazzo-Olsen (Jan), Matthew Wood (Danny), Kelly Palusis (Sandy), sitting Shelby Percival (Ensemble)
 Row 4 – Boys sitting – Julius Morano (Ensemble) & Camryn Bird (Doody)
TreasureCoast.com Features
Treasure Coast Insider with Anna Valencia Tillery
Florida Family Insiders … A Travel Vlog
Real Estate Blog by Diane Lott